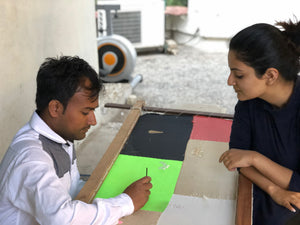 THE BRAINS BEHIND HOUSE OF VIAN
Drishti Mahajan - Creative Head & Owner
Our dynamic creative head is the brains behind the exquisite designs that the House Of Vian produces. An alumnus of FIDM California, she has the creative juices for the perfect blend between trendy and traditional.
DIVIJ MAHAJAN - OPERATIONS & BUSINESS HEAD
Making sure your purchase is carefully packed and safely delivered to you within the stipulated time. An alumnus from SIIB Pune, he is the man handling all operations to keep the company rolling!
Sanya Jain - Marketing Head
Our digital marketing queen is responsible for developing, implementing and executing strategic marketing plans for us. Collaborations, celebrity styling, shoots and many more fun activities done at House Of Vian are all led by her.
Garima Pathak - Graphic Queen
Everything you see on our social media is curated by this gem. She illustrates, conceptualises our content and photos to bring out the true beauty of all our products! Wanna learn how to GIF? ;)
MOHD NOOR ALAM - HEAD EMBROIDER
Creativity is one thing but execution is a different ball game all together. Giving life to all the designs which are on paper is Nooralam's legacy.
Lucky Singh - Jutti Master
The final step in the process is managed by Luckyji in Punjab where he executes the final process of carefully cutting our embellished fabrics and stitching them to create pretty pair of jutti's.